9 Best Rowing machine exercises apps for Android (Fitness)
Rowing Machine Apps Best for Streamlining Your Indoor Workout Experience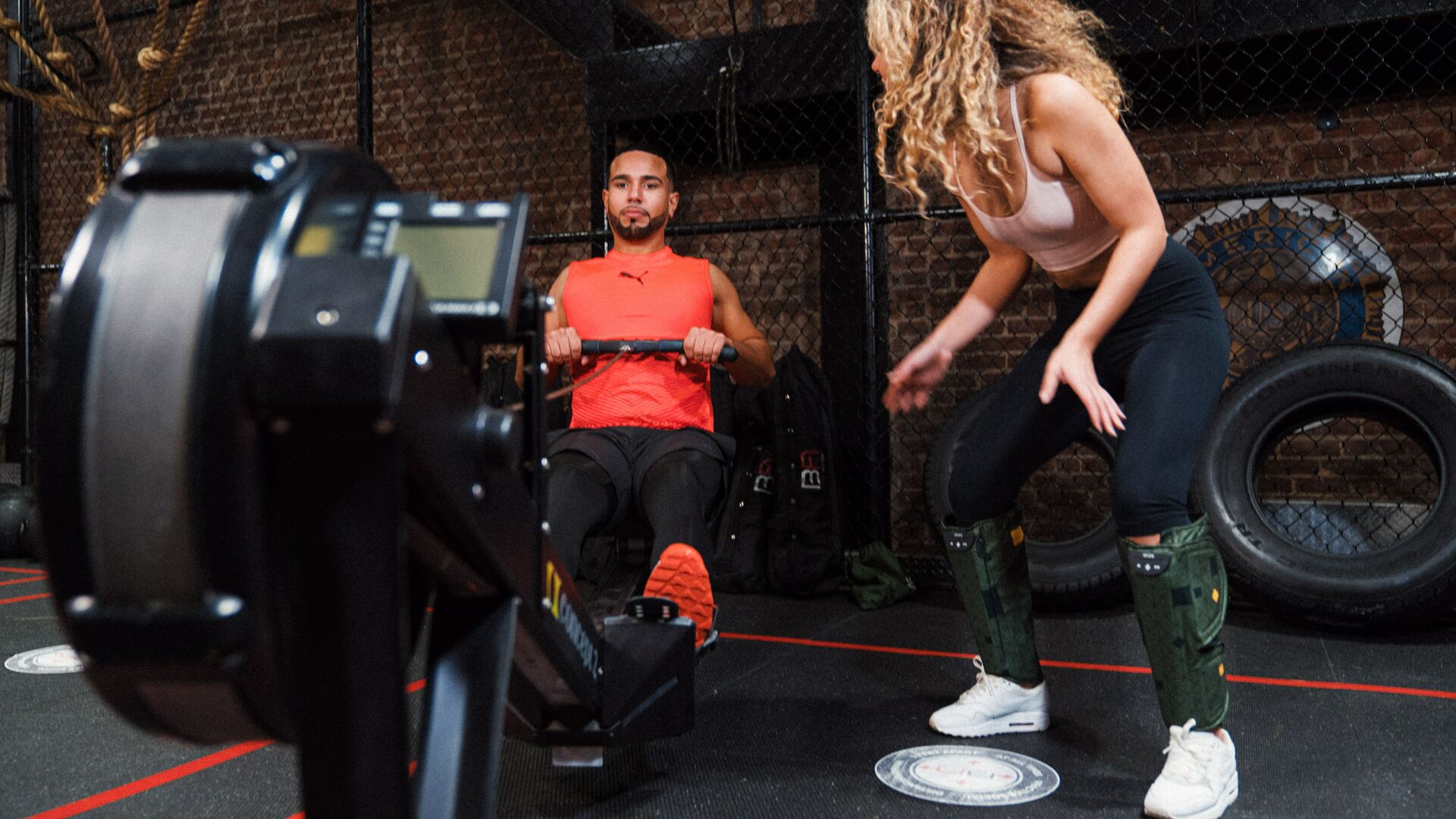 Unlock the Power of Rowing Machine Exercises
Rowing machine exercises are a powerful way to kickstart your fitness journey. They offer a low-impact, total-body workout that not only torches calories but also strengthens your muscles. Rowing machine exercises are highly effective for cardiovascular fitness, muscle endurance, and weight loss.
Rowing Machine Workout Benefits: Full-body workout, boosts cardio fitness, improves muscle strength, aids in weight loss
Beginner Rowing Machine Workout: Easy to start, focuses on form and technique, adjustable to your fitness level
Rowing Machine Exercises Apps: Makes workouts interactive, tracks progress, provides feedback, motivates you to stay committed
A quick look at the top rowing machine apps
AndroidFitness's picks for the best rowing machine exercises apps for Android
Following is our list of the best rowing machine apps for Android. Trusted developers like Vigour Group Ltd and Salty Lemon Entertainment are known to create software that in theory will improve training and exercises routines. After extensive testing we've concluded that the best apps include Rowing Machine Workouts EXR | Make indoor rowing fun! Start Rowing . To explore even futher, check our selection of the best rowing Android apps.
1
Rowing Machine Workouts
Indoor rowing machine workouts. Row for fitness, weight loss and strength!
The Rowing Machine Workouts app is designed to help you improve your health and fitness through guided rowing workouts. It offers different plans for all fitness levels and goals, such as building muscle, losing weight, or improving overall health. The app provides simple and approachable routines to help you improve your rowing ability and technique, with a stroke rate metronome to keep you on track. It also features guided programs, activity tracking, a personal coach with the option to play your own music, a workout logger to track your progress, recommended exercises for safety, and the ability to create custom workouts. This app is perfect for anyone looking to supplement their gym or home rowing machine workouts.
---
2
EXR | Make indoor rowing fun!
Connect your rowing machine to row and race in 3D worlds. Download EXR now.
The EXR app for Android connects to your rowing machine and allows you to row in virtual worlds with friends online. You can explore real-life rowing hotspots like the Charles in Boston or Lake Bled in Slovenia. The app provides motivation by offering challenges, achievements, and leaderboards to compete with other rowers worldwide. It also offers professional workouts tailored to your fitness level and allows you to analyze and share your performance data with other fitness apps. Overall, the app makes indoor rowing fun and engaging while providing a sense of community and motivation.
---
3
Start Rowing
Workout Coach, Rowing Machine Workouts + Erg Trainer: Lose weight, get stronger and be healthy!
Start Rowing is an Android app that allows you to start rowing without any previous experience. It helps you get in shape, build strength, and burn calories. The app offers beginner, intermediate, and advanced training plans to cater to all levels. It guides you step by step, letting you know when to change rowing intensity and when to rest. You can log your workouts and track your progress. The app also includes challenges to test your limits. You can share your progress and success with others. It's important to note that the app is for educational purposes only and should not replace professional medical advice. There is a premium subscription available for additional features.
You may also like: 13 Endurance Exercises Apps for Boosting Stamina and Enhancing Your Workout Routine for Android
---
4
CITYROW GO
At home fitness, Rowing and strength classes
CITYROW GO is an Android app that offers immersive workouts on and off the rower, providing cardio, strength training, endurance, and mobility in each class. It caters to various fitness goals and levels, with on-demand classes available. You can choose from a wide range of classes, including HIIT, cardio, core, endurance, power row, yoga, and more. The app features real-time metrics to track your performance and progress, such as meters rowed, split time, personal records, heart rate monitoring through Apple Watch, and earning badges. You can also row at your own pace and create your own workout while still tracking your metrics. The app is compatible with different rowing machines, and it can connect via Bluetooth to stream live rowing data, set intervals, record workouts, and track progress.
---
5
JUST ROW
Rowing Workouts
The JUST ROW app is a collection of rowing workouts and fitness routines that you can follow along with. It includes three new workouts every week to help you get the best results in a short amount of time. The workouts are divided into different categories like aerobic cardio, high intensity, and skill-focused. You can do these workouts on any rowing machine. Each week builds on the previous week, so you can keep improving. The app also includes daily mobility routines and bonus workouts for a complete fitness experience. The app is created by Austin Hendrickson, a certified personal trainer and rowing specialist. You can subscribe to access all the features and content.
You may also like: 20 Weight Loss Apps: Your Digital Solution for Achieving Health Goals for Android
---
6
Row House
Indoor row classes, Get fit, toned, and improve core fitness with low impact classes and workouts
The Row House app is for people who want to participate in energizing indoor rowing classes. These classes combine cardio, resistance training, stretching, and rhythm-based rowing. The app allows you to personalize your home screen and see upcoming classes and your weekly goal progression. You can also reserve classes and rowing machines, manage your membership, and find new workouts and coaches. If a class is fully booked, you can join a waitlist and be notified if a spot becomes available. Overall, the app helps you stay motivated and engaged in your rowing fitness journey.
---
7
WaterRower Connect
WaterRower Connect turns your device into a WaterRower performance monitor.
WaterRower Connect is an Android app that transforms your device into a performance monitor for your WaterRower. It allows you to see real-time workout data while you row, including distance rowed, 500m split time, watts, time, and stroke rate. You can also store your workout information in the app's history for future analysis and comparison. This app is only compatible with WaterRower models that have the S4 Performance Monitor with Bluetooth ComModule.
You may also like: 20 HIIT Workout Apps for Achieving Optimal Intensity in Under 30 Minutes for Android
---
8
Ergatta
Ergatta's connection, motivation, and progress, in your pocket.
The Ergatta Companion App is useful for enhancing your workout and race performance. It allows you to plan ahead and stay on top of your results. With this app, you can browse through your workout libraries and filter them by time, distance, type, and more. You can also see each workout's details and your projected performance, as well as favorite workouts for later. The app also provides a view of your workout history, with a breakdown of each workout and your monthly distance, time, and calorie totals. You can view your stats on a dashboard, including your personal records and highlights, as well as monthly, weekly, and daily breakdowns. The app also offers rankings, with a full report and monthly breakdowns of the community, your age group, gender, and weight group. You can sort the rankings by distance rowed, best split, and average split. Additionally, the app allows you to check in on challenges and track your progress, and see updates from the team on the latest enhancements to the rower platform. This app is frequently updated with new features and enhancements to keep up with the evolving Ergatta Experience.
---
9
ErgZone
Daily workouts for Concept2 Indoor Rower, SkiErg and BikeErg
ErgZone is an app for athletes who use Concept2 equipment for indoor rowing, skiing, and cycling. The app saves time by automatically configuring the PM5 monitor, calculating heart rate and interval pace, and uploading workout information to Concept2 LogBook. It offers features like partner coach content, daily Concept2 Workout of the Day, easy interval setup, live stats comparison, suggested pace per interval, automatic result uploads, various workout options, bookmarking favorite workouts, heart rate tracking, competitions, free workouts from partner coaches, follow-along workouts with coaches, and additional metrics beyond PM5. ErgZone is useful for athletes who want to focus on their workouts without the hassle of manual configurations and calculations.
You may also like: 12 Swimming Apps: Your Best Guide for Aqua Fitness and Training for Android
---
App Comparison
Here's a table of how our top 9 app picks compare:
Benefits of Rowing Machine Workout
Among the numerous workout routines, you may wonder why rowing machine exercises are a great choice. Well, rowing machine workout benefits go beyond burning calories. It's a full-body workout that also benefits your heart and lungs. Rowing machine exercises can improve your endurance, boost heart health, and enhance muscle strength. They're perfect for those who want an all-in-one fitness solution.
Getting Started: Beginner Rowing Machine Workout
For beginners, starting a fitness routine can be daunting. But fear not. Rowing machine exercises are beginner-friendly. You can start with a basic rowing machine workout plan that can be adjusted according to your fitness level. Remember, it's not about how fast you row, but how well you row. Mastering the proper form and technique is key to getting the most out of your workouts.
Boost Your Fitness with Rowing Machine Exercises Apps
Staying motivated and committed to your workout routine can be a challenge. This is where rowing exercises apps come into play. They are designed to make your workouts more effective, fun, and interactive. These apps can guide you through various workouts, track your progress, provide feedback, and even offer virtual races. Using a rowing machine exercises app is like having a personal trainer at your fingertips, ensuring you get the most out of your fitness workouts.
NOTE: Every app's APK file is manually reviewed by the AndroidFitness team before being posted to the site.
More rowing machine apps to consider