8 Best Freediving apps for Android (Fitness)
Freediving Apps Enhancing Breathing Performance for Safe Underwater Exploration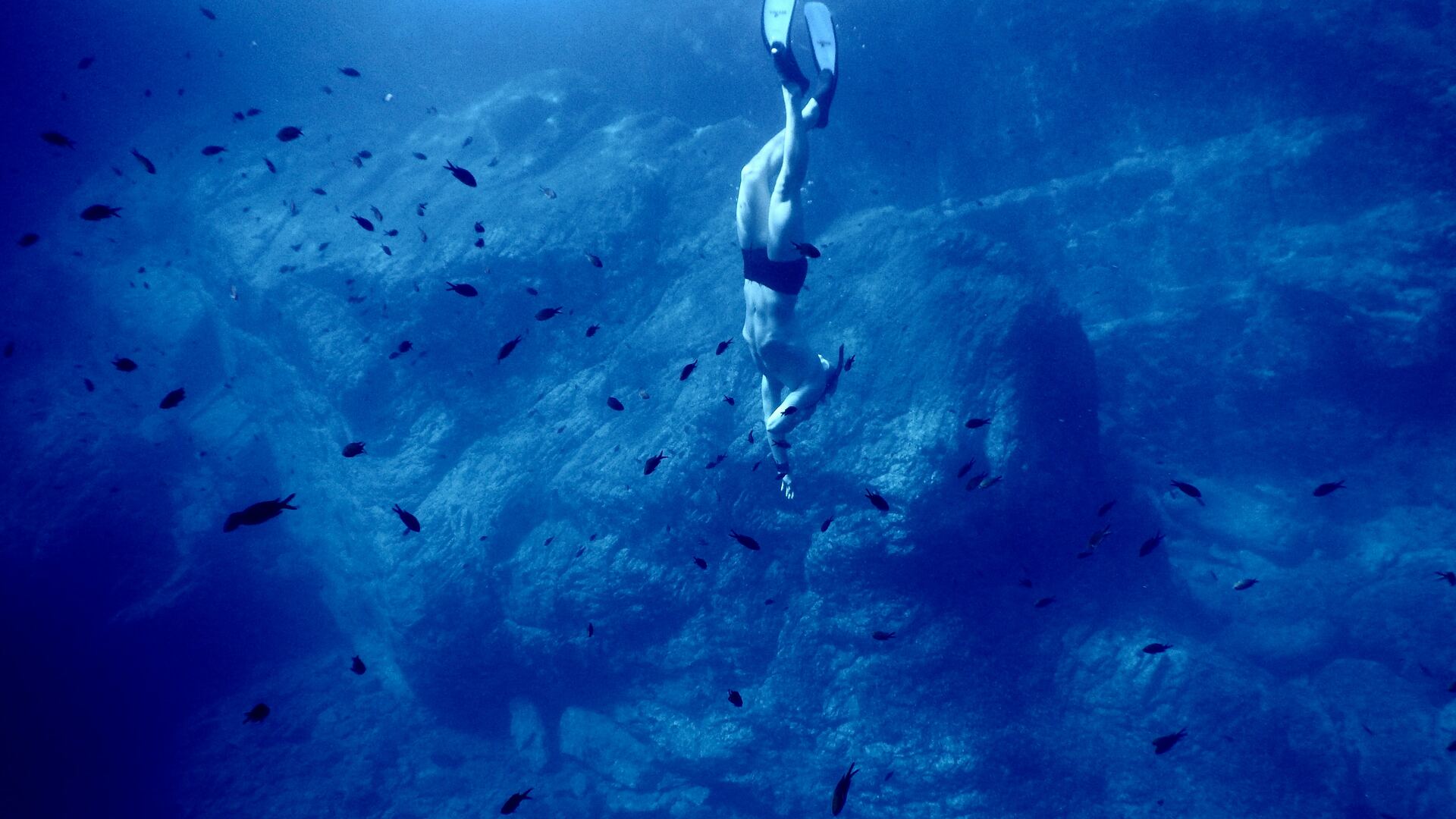 The Incredible Freediving Workout Benefits
Freediving, the act of diving underwater on a single breath, isn't just a thrilling aquatic adventure—it also comes packed with numerous health benefits. Freediving can help strengthen your lungs and improve your oxygen efficiency. This challenging sport can also enhance your flexibility, overall body strength, and even mental fortitude. Moreover, the calm and focus required in freediving can significantly reduce stress and boost emotional well-being.
Enhancing Your Practice with Freediving Training Exercises and Apps
Freediving training exercises are a big part of the training routine. They can help improve your technique, increase your breath-holding time, and boost your fitness level. Incorporating these exercises into your workout routine can greatly enrich your freediving experience.
Complementing your physical training with freediving apps can take your practice to the next level. Freediving apps offer a wealth of resources, such as personal tracking features, tutorials, and even virtual coaches, all geared towards enhancing your freediving training. They can help you monitor your progress, perfect your techniques, and stay motivated—making them a great addition to any fitness workout routine.
Do freediving really work in sports and fitness ?
The research from the PubMed articles underscores the physiological adaptations and training methods that can enhance performance in freediving, a sport that demands exceptional fitness and discipline. The study on Pulmonary Physiology and Medicine of Diving (1) illustrates how the body, particularly the lungs, adapts to the unique pressures and conditions of underwater environments, crucial knowledge for freedivers aiming to optimize their performance. The case report on the effects of seasonal training on heart rate and oxygen saturation during face-immersion apnea in elite breath-hold divers (2) shows the potential of specialized training routines in improving cardiovascular efficiency and oxygen utilization, vital elements of fitness routines for freedivers. Furthermore, the systematic review and meta-analysis of training methods for maximal static apnea performance (3) provides evidence-based strategies for enhancing breath-hold durations, a critical skill in freediving, highlighting the importance of targeted, systematic training in this sport. Overall, these studies underscore the intersection of sports and fitness routines in freediving, emphasizing the need for tailored physiological adaptations and specialized training methods.
A quick look at the top freediving apps
AndroidFitness's picks for the best freediving apps for Android
Following is our list of the best freediving apps for Android. Trusted developers like Brucemax and Silence Studio are known to create software that in theory will improve training and exercises routines. After extensive testing we've concluded that the best apps include Freediving Apnea Trainer - In order to fly Wim Breathing. Apnea Tables. NTX Apnea . To explore even futher, check our selection of the best swimming Android apps.
1
Freediving Apnea Trainer - In order to fly
In order to fly, it is enough to dive underwater!
The Freediving Apnea Trainer - In order to fly app is designed to help improve your breath holding ability and stamina. It is useful for beginners and advanced freedivers, underwater hunters, and yoga trainees. The app allows you to set your current maximum breath holding time and it will automatically calculate the training tables based on this time. It also has features such as the ability to edit existing tables and create your own, a full history of completed trainings with statistics and charts, and the option to use pulse oximeters and Bluetooth devices for heart rate measurements. The app provides notifications and reminders during training sessions and allows you to mark the start of contractions. It is important to note that the app is not intended for medical use and should not be used as a medical device. Consult a physician for any medical conditions.
---
2
Wim Breathing. Apnea Tables.
Pranayama. Breathing exercises. Freediving training. Apnea tables. Breath-holds.
The Wim Breathing. Apnea Tables. app for Android helps improve overall health and performance with simple breathing exercises. Pranayama, the ancient practice of controlling breath, connects the body and mind while supplying oxygen and removing toxins. Benefits of breathing exercises include reducing stress, improving sleep quality, increasing mindfulness, reducing high blood pressure, improving lung function, enhancing cognitive performance, and reducing cigarette cravings. Holding your breath helps counteract over-breathing and leads to a hypoxic state, which has therapeutic benefits. The app includes apnea tables used by freedivers to improve breath-holding and lung capacity. Benefits of holding your breath include deep relaxation, improved physical endurance and performance, enhanced brain activities, increased lifespan, and increased resistance to bacterial infections.
---
3
NTX Apnea
NoTanx Freediving, CO2 and Breathold Training
NTX Apnea is an Android app designed to help you improve your breath-holding abilities, relaxation, and self-awareness through a complete freediving training system. The app provides a range of exercises that target different aspects of training, such as dive reflex, breath-holding under stress, CO2 tolerance, and self-awareness. These exercises are suitable for both beginners and experienced apneists, with detailed instructions and expert audio and video guidance. You can customize the exercises and track your progress with the in-app exercise history. The app also offers automatic difficulty adjustment based on your performance, exercise suggestions, and a built-in warmup routine.
You may also like: 20 Cardio Exercises Apps to Amplify Your Heart Health and Stamina for Android
---
4
Freediving Apnea Trainer
One App for every sports person & athlete needs, without gym & stimulator, 30Min
The Freediving Apnea Trainer app is for anyone who wants to improve their stamina and endurance in various activities like freediving, spearfishing, bodybuilding, running, basketball, hockey, soccer, and healthy living. The app includes different exercises like Pranayama, navy level box breathing, and the apnea table with oxygen and carbon dioxide. Users can start at their preferred level and gradually progress. The app trains users to improve their oxygen capacity and helps them cope with excess carbon dioxide during training. Apnea tables are exercises designed to improve the body's tolerance to carbon dioxide and oxygen levels. The app allows users to practice these exercises without the need for water.
---
5
STAmina Apnea Trainer
STAmina — static apnea table: breathhold training, scuba, spearfishing, freedive
STAmina Apnea Trainer is an app designed to help improve breath-holding time for activities like freediving, scuba diving, and spearfishing. It offers 5 different types of apnea tables to train static apnea at home. The app includes an O2 deprivation table to acclimate the body to lower oxygen levels, a CO2 Tolerance table to adapt to high carbon dioxide levels, a Wonka table that starts the timer after the first contraction, a Mix table with increasing apnea time and decreasing rest time, and a Custom table for personalized training. The app also offers personalized training programs with varying difficulty levels, allows users to customize exercise settings, provides training reminders, and tracks personal statistics and training history. STAmina Apnea Trainer is useful for both beginners and professionals looking to improve their diving skills and prepare effectively.
You may also like: 20 Breathing Apps for Improved Mindfulness and Fitness Performance for Android
---
6
Freedive and Apnea Training
Apnea Training App with a Breathing Trainer for Practicing your Apnea Exercises
The Freedive and Apnea Training app is designed to help you improve your skills in apnea diving and freediving. It offers progress logs and apnea statistics to track your personal apnea shape and analyze your progress. The app also includes CO2 and O2 tables to build tolerance to carbon dioxide and adapt to low oxygen levels. You can choose workouts based on your needs and goals, and there are tutorials to help you learn the basics and key concepts. This app is perfect for both beginners and experienced divers looking to enhance their performance and knowledge in breath-hold diving.
---
7
Garmin Dive™
Log your dives, explore dive sites and more.
The Garmin Dive app is great for people who love diving. It works with Garmin dive computers like the Descent MK1. You can keep track of your dives using the dive log feature. It works for all types of diving like scuba, freediving, and more. You can even see your dives on a map and check your gas consumption. You can also find popular dive spots using the Explore feature. You can add photos to your dive logs and see them in your news feed. You can look back at your diving history and stats. You can also keep track of your dive gear and set alerts for maintenance. All your dives are stored safely on Garmin's cloud. You can get notifications on compatible Garmin devices too. The Garmin Dive app is perfect for your diving adventures.
You may also like: 9 Apnea Apps: Optimize Your Breathing for Enhanced Fitness Performance for Android
---
8
Breathink
Stress Relief, Guided breathing exercises app to easily find relief for stress & anxiety
The Breathink app is designed to help people cope with stress and anxiety by guiding them through breathing exercises. The app contains a variety of exercises and techniques curated by Dr. Mike Maric, a medical professional and world champion freediver. Scientific studies have shown that breathing deeply can improve the quality of life. The app provides on-screen instructions and an audio guide to help users perform the exercises, which include techniques for anxiety, stress, blood pressure, and healthy lungs. Deep breathing can slow the heart rate, reduce blood pressure, and stimulate the vagus nerve to reduce feelings of anxiety and tension. Using the app for 20 to 30 minutes each day can help reduce anxiety and stress.
---
App Comparison
Here's a table of how our top 8 app picks compare:
Exploring Freediving Pool Workouts
Freediving isn't always about exploring the deep sea. You can also experience the magic of this exercise in the comfort of a swimming pool. Freediving pool workout is a fantastic way to build endurance and improve your breath-holding technique before venturing into open waters. It allows you to practice different diving positions, refine your technique and increase your comfort underwater, all in a controlled and safe environment.
Understanding Freediving Methods: Apnea and Anaerobic Training
Freediving takes two primary forms: apnea training and anaerobic training. Freediving apnea training involves exercises that enhance your ability to hold your breath for extended periods. This technique helps to increase lung capacity and train your body to use oxygen more efficiently. On the other hand, freediving anaerobic training focuses on exercises that improve your body's ability to work without sufficient oxygen. The benefits of these forms of training go beyond freediving—they can bolster your performance in other sports and improve your overall health.
NOTE: Every app's APK file is manually reviewed by the AndroidFitness team before being posted to the site.
More freediving apps to consider